Brand Spotlight: PAX Labs
PAX Labs is one of the most well-known and top-selling brands in the electronic vaping space. Launched as Ploom in 2007 by founders James Monsees and Adam Bowen, the San Francisco-based brand initially sought to create a cigarette alternative. In 2012, the Pax vaporizer hit the market. The company has continued to develop various pieces of vape technology ever since. Most notably, in 2015, PAX developed the Juul e-cigarette. Two years later, Juul Labs became an independent company.
For its cannabis work, the company has secured a substantial degree of name-brand recognition among oil and flower vape consumers and investors. Through two investment rounds in 2018 and 2019, the company raised $445.5 million in funding. $420 million came from the 2019 round at an evaluation of $1.7 billion.
Today, PAX sells two cannabis concentrate-specific devices and two hybrid dry flower-extract options:
PAX Era (Concentrates)

Era Pro (Concentrates)

PAX Mini (Hybrid)

PAX Plus (Hybrid)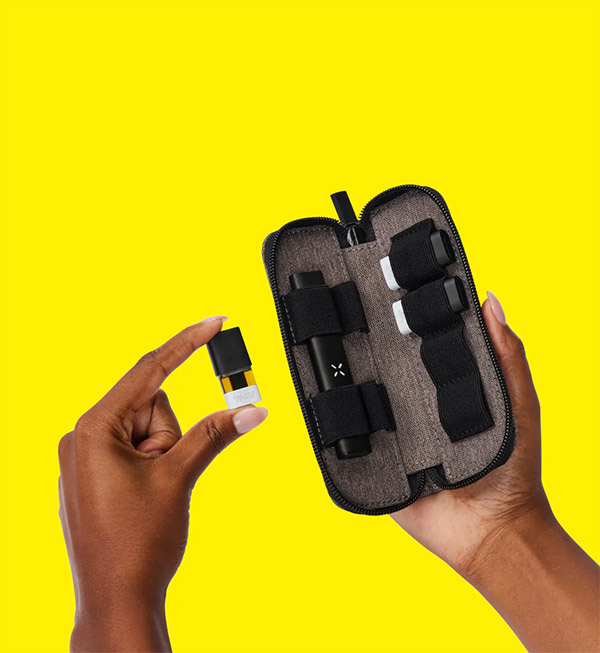 In February 2022, PAX Labs expanded its brand reach by launching its first cannabis-based product sold in California, a live rosin vape pod for its Era device. October 2022 saw the live rosin products reach Canadian markets. In December 2022, the company rolled out a new Era device and a new THC pod, High Purity. The latter marked the fourth cannabis product from the company that year.
With strong sales and positive product reviews, PAX is often considered a potentially dominant player in the booming vape tech space. "Heat-not-burn" products are often regarded as ripe for growth in the coming years as people pivot away from smoking. Some analysts project that the market will see a CAGR of 25.6% between 2020 and 2026.
PAX has remained near the top of the consumption device space despite operating in various saturated cannabis and vape sectors. The company has garnered plenty of positive consumer buzz over the years for its devices and, more recently, for its cannabis options. While independent of Juul, there remains a degree of consumers that negatively associate the brand with the e-cigarette brand and its adverse effects on youth consumers.
As a standalone cannabis brand, it remains to be seen if PAX Labs can replicate its long-term success in producing cannabis. Still, PAX avoids a significant degree of sector oversaturation and competition by creating carts exclusively for its devices.
Market analysis identifies PAX Labs as a potential key vendor in the growing global vape tech market. Other names involved at the top include:
Altria (United States)

British American Tobacco (United Kingdom)

China Tobacco (China)

Imperial Brands (United States)

Japan Tobacco (Japan)

Philip Morris International (United States)

Pro Link Japan Co., Ltd. (Japan)

Sampoerna (Indonesia)

Vapor Tobacco Manufacturing LLC (Finland)
Numerous additional brands are expected to play a significant part in the space. With dominant market brands and newcomers alike rolling out new technology, key market players can change as consumer demand potentially shifts. But, most expect PAX to remain a top name in the cannabis game for some time.
Interested in taking your brand to heights like PAX Labs? You're going to need the funding to get there. Contact FundCanna today to learn more.
Get the working capital you need. Fast.

Approvals in as little as 24 hours